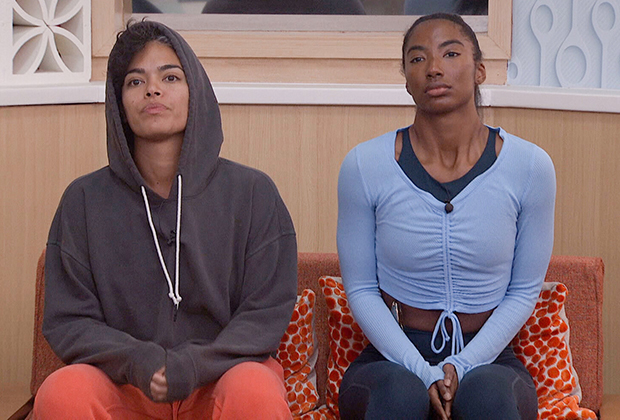 Someone calls Marie Kondo, because Big brotherThe twenty-fourth season has arrived chaotic.
To be clear, I say this with great appreciation for clutter: Big brother He's caught in a predictable rut, let's vote with the house for several seasons, and I'm glad to see the opposite situation happen here. But between Kyle's ill-advised confrontation with Alyssa, Nicole's valid suspicion that most of the Leftovers are working together, and of course Daniel's crazy decision to veto and endanger his number one ally, this week in BB The house was undoubtedly (and gorgeous) messy.
Let's analyze how the week turned out, with Nicole inadvertently preparing to appear in a tailgate before Thursday's episode:
The strategy | Veto meeting with Nicole and Taylor now ends on the verge of cutting, Taylor's tears of frustration are legitimate: She resents vetoing Alyssa and Andy when she thought the nominations would stay the same, and her trust in The Leftovers seems to take a hit since she didn't get advance warning. regarding switchero. Nicole, meanwhile, is feeling "exhilarated" to be in an enclosed space, so, that's it.
But shortly before the veto meeting took place, Kyle went upstairs to warn Monty that Daniel "100 percent" planned to veto. The night before, Nicole had visited HOH's bedroom and found six of the seven remnants—in other words, everyone except Kyle—having hanging out there, making her confident that these six are in an alliance. With Monty and Taylor unable to cast their votes this week, Nicole and Daniel had the impression that Taylor would only get a four Votes to stay, when in reality she would have five (Kyle is the fifth), and Monty would likely break the tie in Taylor's favor anyway. So while it's not ideal for Taylor to see the block for the umpteenth time, The Leftovers privately know that Daniel "played himself," in Joseph's words, with a veto this time.
Other highlights of the pre-recorded clips: After doing so with Terrance just last week, Nicole revealed to Indy, Alyssa, and Jasmine that she used to be a cop, which she seems to believe is a game-changing piece of information; Kyle and Alissa hit each other Big brotherhis harshest showings (pigeons kidding! Make him stop!); And after getting word from some leftovers it might be Nicole Not You have the votes to stay, Andy, Alyssa and Jasmine are weighing their options, hoping to keep Nicole but significantly more desperate to simply be on the right side of this week's council vote. Just float along, these three!
eviction | When it's time to vacate, Taylor gets a little excited in her pre-vote speech, telling Nicole, "To quote Big brother Gorgeous Rihanna, you look So Stupid now." (!) Nicole recalled how she thought it was smart to cast Taylor as Festie Bestie, unaware that her own flight or death, Daniel, would ultimately be responsible for her downfall. (Nicole seems to be taking it all in stride, but after sitting Taylor again, the women exchange a smile cries"I hate you!")
In the end, only Danielle gets Nicole back: she's fired by a 9-1 vote, but hugs everyone on her way out and tells Julie that she's "not at all" surprised to learn more about The Leftovers, since she's already correctly identified six of their seven members. She also describes Taylor's pre-vote speech as "amazing and funny" and "nothing but the truth," considering Nicole she did She believes she can manipulate others, including Taylor, to keep herself in the game.
And since we're apparently destined to never have a head-to-head competition for the entire family again, the episode ends instead with Taylor choosing Alyssa and Andy as her new Festie Besties. Meanwhile, Daniel heads to one of the bedrooms by himself, noticing that he has to pack his bags now. Moments ago, he told Nicole in his farewell letter that he wouldn't leave Big brother A house without a fight…but it seems to feel a little different now.
Your turn! What do you think about the expulsion of Nicole? And who do you want to see win the head of the family? Leave a comment below!