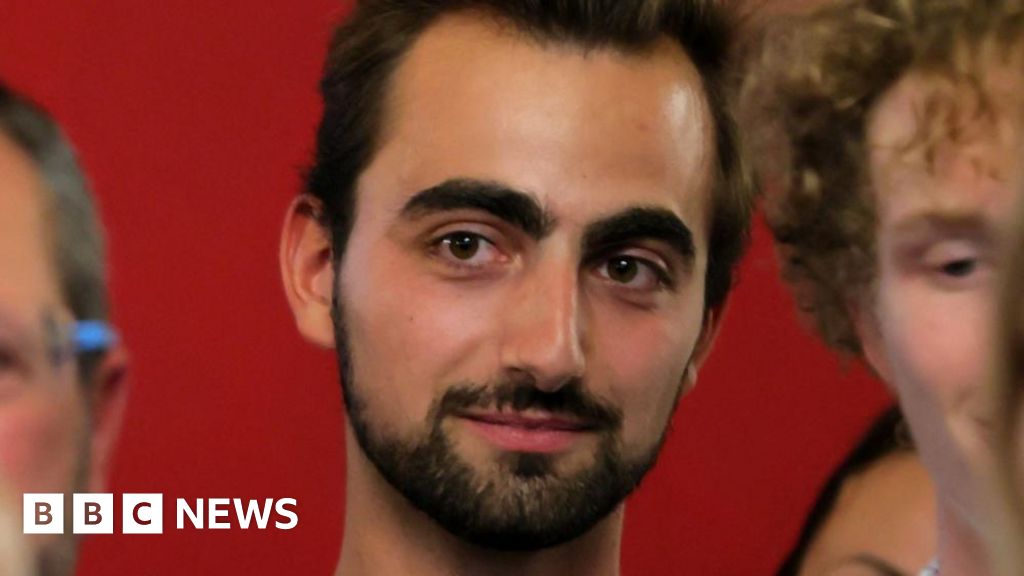 Written by James Fitzgerald
BBC News
French media have hailed the "hero with a backpack" for his attempts to thwart a knife attack in the city of Annecy that left four children seriously injured.
Henry, 24, was filmed chasing after the suspect and swinging his bag at him.
The Catholic pilgrim – who has been touring France's cathedrals – said he followed his instincts and did what he could to "protect the weak".
President Emmanuel Macron praised his courage when the two met in town on Friday afternoon.
Macron told Henri that his actions had been "a source of hope", but that the young man had "experienced … trauma".
The French leader traveled to meet the stabbing victims and salute the work of the first responders.
He said he had heard "positive" news about the condition of the four children who were injured in the attack. Two adults were also injured.
Footage of the incident itself and its immediate aftermath appeared to show Henry swinging one of his backpacks at the attacker, who attempted to cut him in return.
Another clip showed him chasing the knife across a grassy area.
As the phrase #MerciHenri started spreading online, Henri posted on Instagram to say, "Pray for the kids, I'm fine."
Henry received letters of thanks, not only for his actions but also for his apparent humility.
He explained that it was "inconceivable that I did nothing… I followed my instincts and did what I could to protect the weak."
Management graduate who later refused to reveal his surname Referred to BFMTV He is not the only civilian who has put himself in harm's way.
He said he "behaved like any French person". "Several other people interfered any way they could. I saw a park employee trying to hit the attacker with his big plastic shovel."
Henry's father believes his son's actions prevented more people from being hurt by the attacker.
Henry had given an interview just days before the accident before Dauphiné Liberé newspaper. He was questioned on his nine-month tour of French cathedrals, which he planned to complete with walks and hikes.
He was quoted discussing his trick of knocking on random doors near cathedrals in an attempt to find accommodation. "It forces you to open up to people," he explained.
Commenting on the suggestion that the suspect in Thursday's attacks also identifies as a Christian, Henry said that "attacking the weak is very unchristian."
Instead, Henry said, "something very badly populated him."