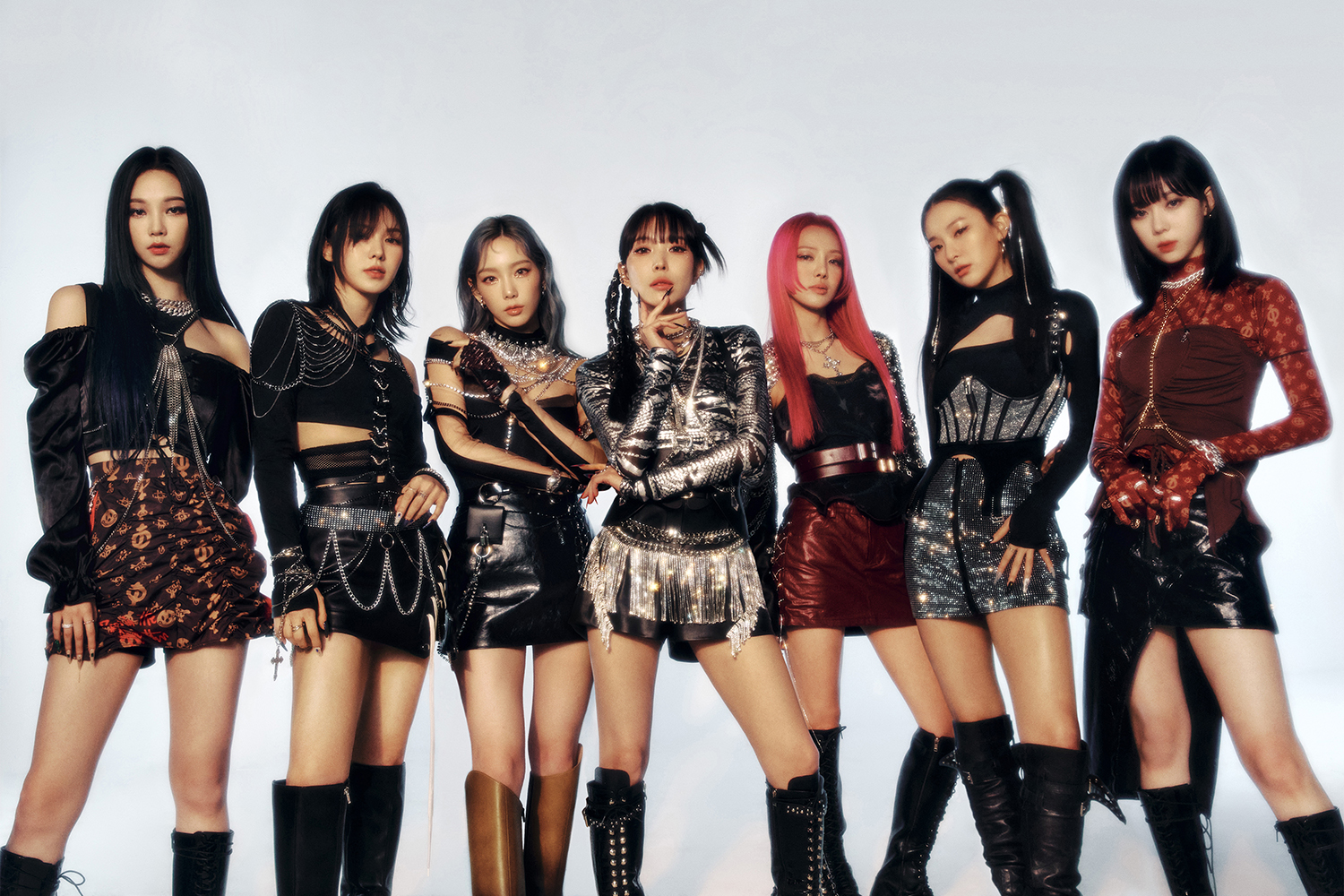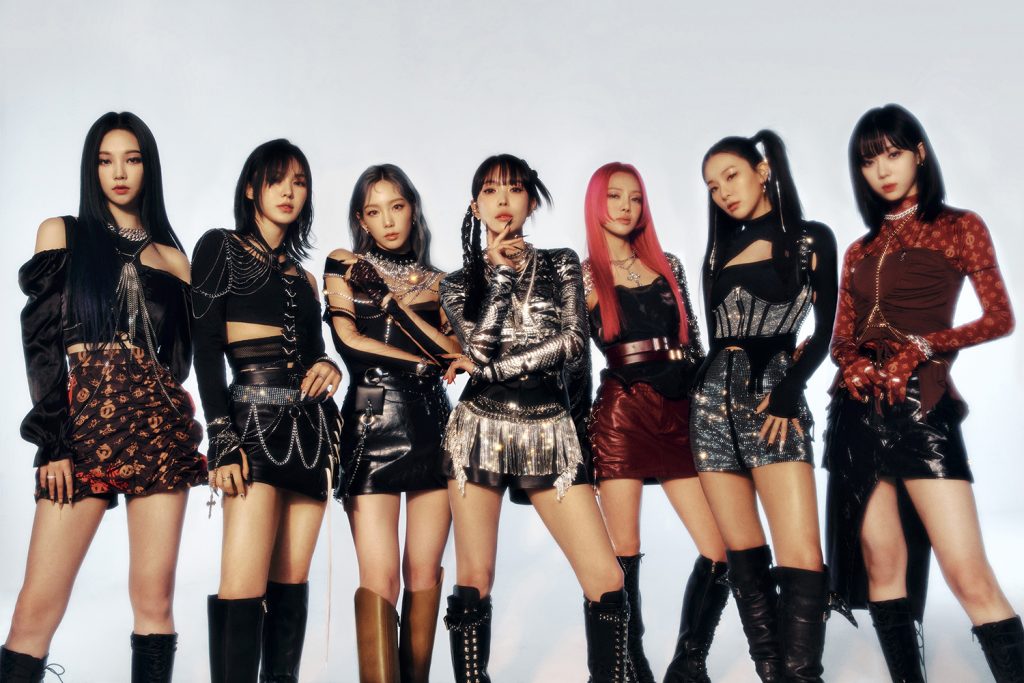 SM Entertainment King K-pop Fans buzzed in January when the company Unveiled team lineup SM's first female "super group" is dubbed "girls on top(or "Got" for short). Revealed during the entertainment company's annual SMTOWN LIVE event, the new group launched with seven artists, representing some of the biggest acts on SM's roster—including solo acting BoA, Girls' Generation's Taeyeon and Hyoyeon, Seulgi and Wendy from Red Velvet, Karina and Winter from Aespa.
Girls on Top debuted with the seven artists organized into a unit called "GOT the Beat"; SM says that GOT will feature other artists and units that "spin" in and out of the group in subsequent incarnations.
Right now, fans are embracing GOT the Beat, as the video for the group's first single, "Step Back," has garnered more than 65 million views since its release on New Year's Day. Subsequent clips of the girls in dance rehearsals and the "Step Back Challenge" release also went viral, proving this "super group" knows no bounds when it comes to giving fans what they want – and making an impact.
rolling rock Meet the girls to learn more about their lineup, their mods to working with new group members and why the bond they've formed (and their new group chats!) help bring out new "colors" that fans never had before. we've seen before.
Where were both of you when you found out you were in this group and how did you know that?
snake: I knew the company was planning a "Girls On Top" project featuring only female artists. When I heard that I would be participating as a member of her first unit, "GOT the Beat," I thought it would be an exciting and fun experience.
Hyoyeon: We've had a lot of conversations about this project and what kind of concept and song it goes with. I was home when I heard about GOT the Beat and was excited once I thought about performing with the girls.
Wendy: We've all known about this project for a long time. I don't remember exactly where I was when I first heard about it, but I thought making "debut" again as a new unit with other artists would be a very fun and exciting experience.
Solji: after SuperM . has been formed, I thought, "It would also be fun to have a super female band." Since there are so many talented artists within the company, I thought a group of female artists would be unique as well. When the planning started to take shape, I was really surprised to hear that I would be participating as one of the members. I never imagined that BoA, Taeyeon, Hyoyeon, Seulgi, Wendy, Karina, and Winter would perform as a team. I think this was possible because he's SM. I was so proud to be a member of such a great group but also nervous at the same time.
Why is this project so exciting and meaningful to you?
snake: It's really a unique set of members unlike any you've seen before. It is also a great opportunity to showcase the unique charm and talent of each member as well as the synergy we create when we are together. The response we received from our fans was amazing, and I was so grateful for all the love and support.
Solji: The most exciting part was getting the members together. Everyone is incredibly talented! I wondered what kind of music and performance we would be doing together and thought we could create something legendary that people would remember for a long time. I thought about all of this before we started getting ready. Each member has had an amazing career as an artist, and seeing these artists come together has been exciting for me and each of my fans. It's a new kind of chemistry that we share that people haven't had a chance to see.
Karina: First of all, it is an honor for me to be able to perform with such great artists. They have so much experience, I still can't believe I performed with them and released a song together as a team! We each have our own unique color as an artist and belong to different groups – so it was very exciting to meet like this as a team. I am happy to be a part of GOT the Beat.
Did you know each other before? Aside from the events of SMTOWN, have any of you been friends in real life?
Taeyeon: When I was young, Boa was a role model and inspired me to become an artist. I am also close to Red Velvet and cherish them as good friends. Thanks to this project, I've also become a lot closer to Aespa!
Solji: Everyone is busy with their schedules, so it's hard to meet unless we're performing at the SMTOWN party. This project allowed us to learn more about each other and made us very close. We even created a group chat!
How would you say that your Beat is different from your other groups?
snake: Since I've always performed as a solo artist, this was my first time working as a group and it was a new and fun experience! It was all new to me to be in the studio and the waiting room full of so many people and energy. Overall, it was a new experience for me to perform with other members. I had a good time!
Hyoyeon: For Girls' Generation, the biggest age difference between the members is two years, so it felt like close friends performing together. For GOT the Beat, I'm with my childhood model BoA as well as younger artists who have grown up and pursued their dream of seeing Girls' Generation perform. So naturally, I was excited to do my best. I was nervous and excited at the same time.
winter: With Aespa, we seem to be growing together, while with GOT the Beat, it feels like a great learning experience by performing with artists I've always looked forward to.
What is the role of everyone in the group?
WendyIt is difficult to define exactly the role of each person because each of us has a different color in terms of our voice and personality. I would say when we work together as a team, we try to do our best in performing our individual parts and bring them together to create good harmony.
Boa, I have worked in the industry for many years. What advice did you give the other girls?
snake: Although I am the most experienced member, I tried to lighten the mood to create a relaxed and friendly atmosphere rather than trying to give advice. We shared many conversations while spending time together and talked about how we felt after observing the performance. All the members are very talented, so I had a lot of fun preparing for this project.
Taeyeon and Hyoyeon, how does being in Girls on Top give you new enthusiasm or new motivation for your career?
HyoyeonGirls On Top: Girls On Top made me feel the rush and adrenaline I felt when I was just starting out in my career. Watching the other members with so much energy, I could feel the emotion burning inside me.
Taeyeon: I think I've always had this "singer image" as a member of Girls' Generation and as a solo artist – but through GOT the Beat, I've been able to showcase my performing skills [too]Which was exciting to me.
Karina Winter, what did you learn from the other girls on the set?
Karina: They shared with me tips on how to make correct facial expressions and gestures that help express music on stage. I also learned a lot from practicing with them, like the details of each move. Training with them reminded me of my training days when I was excited by watching my other teammates perform. This helped me improve my skills – in a similar way the members of GOT the Beat encouraged me to push myself to become a better artist. It was a great opportunity for me.
winter: First, they all have more experience than me, so everything from performance and singing skills to dance techniques was impressive and impressive. I was really happy just to be able to perform on the same stage with artists I've been looking forward to since I was little!
What can we expect from Girls on Top next?Taeyeon: GOT is a project with different groups of members. You can expect new units with different members and a new style of music and performances!
Wendy: Just as a lot of people were surprised by the debut of GOT the Beat and they showed us so much love, you can expect new music and shows that will continue to show our strong chemistry.
Karina: With so much love and support we've received so far, we hope to bring you more great music and performances in the future.