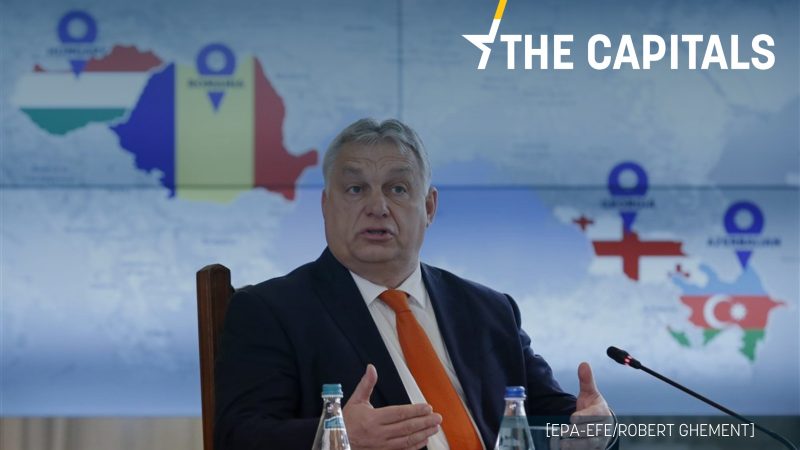 The Capitals brings you the latest news from across Europe, with field reports provided by EURACTIV's media network. You can subscribe to the newsletter over here.
---
European news worth reading. you welcome in capital Cities by EURACTIV.
---
In today's news from capitals:
Hungarian energy experts are not convinced by the green and security promises of the new Brussels-backed electricity cable project with Azerbaijan. Read more.
///
institutions of the European Union
Europe's auto industry should look to the future, not the past. Most European automakers have already announced that they will go fully electric by 2035, and some soon. The task of the European Union is to prepare for this transformation, Frans Timmermans writes.
Frans Timmermans is the vice president of the European Commission responsible for the Green Deal. Read the editorial.
///
Paris
French doctors urged not to strike at a difficult Christmas. Health Minister François Browne said French doctors, some of whom went on strike over low consulting fees at the start of December, should not continue to strike during the holiday period – a time when viruses are circulating. Journal du Dimanche Sunday. Read more.
///
Vienna
The Austrian Niemer advocates the border walls of the European Union. Fences are key to protecting the EU at its borders, Austrian Chancellor Karl Nehammer said in an interview Sunday, citing a time when border fences with Turkey and Greece allowed Greek border authorities to block illegal immigrants from entering. Read more.
///
Brussels
NGOs ask Belgium to rally against new pesticide assessments. Several NGOs are asking Belgium not to keep pace with the majority of member states that are likely to ask the European Commission to carry out an additional assessment of the impact on the EU's pesticide reduction targets at the Council summit on Monday. Read more.
///
The Hague
Dutch military aid to Ukraine amounts to nearly one billion euros. The Netherlands has now provided Ukraine with 987 million euros in military aid, Defense Minister Kajsa Olongren told the Dutch Parliament in a letter on Friday. Read more.
---
United Kingdom and Ireland
London
At the Riga Summit, Sunak calls for a deadly increase in aid to Ukraine. The government said British Prime Minister Rishi Sunak will meet his Nordic, Baltic and Dutch counterparts at the Joint Expeditionary Force summit in Latvian capital Riga on Monday, before heading to Estonia to meet British and NATO forces. Read more.
---
North and Baltic
Helsinki
Launching hydrogen infrastructure projects to connect Finland and Central Europe. State-owned company and transportation system operator Gasgrid Finland signed a project agreement to develop a new piece of the regional hydrogen infrastructure network on Friday. Read more.
---
south of Europe
Athens
Moscow warns Athens against sending the S-300 missile system to Ukraine. Russia's permanent representative to Crimea Georgy Muratov has warned Greece against transferring Russian S-300 anti-aircraft missile systems to Ukraine, saying it would be an "irrational display of hostility towards Russia". Read more.
///
Lisbon
Portugal: One in seven children born to foreign mothers in 2021. Of the nearly 80,000 children born in 2021 in Portugal, more than 10,000, or about 14 percent, will be of foreign mothers, according to a survey published Sunday by Bordata. Read more.
---
Visegrad
Prague
The Czech Presidency of the European Union proposes a settlement on the gas price ceiling of 188 euros. The Czech Presidency of the Council of the European Union would like energy ministers from across the Union to agree to cap gas at €188 per megawatt-hour (MWh) in Brussels on Monday. Read more.
///
Warsaw
Polish opposition notifies prosecution of government fuel merger irregularities. The Public Prosecutor's Office has been notified of significant errors in the recent merger between the Lotos fuel company and PKN Orlen, the largest fuel company in Central and Eastern Europe in which the state also owns a majority, representatives of the parliamentary opposition announced during a newspaper conference. Read more.
///
Poland's ruling camp says it predicted war for Ukraine, and accuses the opposition of sabotage. The ruling Law and Justice party claims it knew war would break out in Ukraine, while the opposition, which appears to be partly "involved" in the Kremlin's plan, has gone so far as to take steps to sabotage the country's preparations for a possible Russian attack. . Read more.
///
Bratislava
EU lawmakers on mission to Slovakia point to concern about the situation of LGBT people and Roma. An EU parliamentary delegation expressed concern about the state of equal rights in Slovakia with regard to LGBTQI and Roma communities, and called on the government to intensify its efforts to recognize their rights. Read more.
---
News from the Balkans
Sophia
Bulgaria begins investigation of pro-Russian paramilitary forces. Sofia's prosecutor's office ordered the country's counter-intelligence agency to launch investigations into the activities of an alleged pro-Russian paramilitary organization after a tip that the organization committed crimes against the republic. Read more.
///
Ljubljana
Slovenian companies benefit from the energy subsidy programme. Businesses will be eligible for aid to combat soaring energy prices under a €1.2 billion plan, which while approved by the National Assembly on Friday, some see as too little too late. Read more.
///
Pristina
Kosovo approves an energy strategy focused on renewable energy sources. The Government of Kosovo has approved the draft Energy Strategy 2022-2031 to enable the energy sector to serve as a tool for the country's economic growth, increasing business opportunities and youth employment. Read more.
///
Tirana
The Albanian Prime Minister calls out the criminal rhetoric used against the Albanian diaspora. Prime Minister Edi Rama has spoken out about the prejudice Albanians face and the stereotype that they are all criminals, after several months of negative rhetoric from the UK following a surge in numbers crossing the Channel in boats to seek asylum. Read more.
---
agenda
European Union: In its energy-related configuration, the Transport, Communications, and Energy Council discusses reducing methane emissions, accelerating the deployment of renewable energy, and more; The Czech presidency presents a progress report on the gas deal.
Vice-Chair Valdis Dombrovskis participates in the second EU-Vietnam Trade Commission;
Commissioner for Jobs and Social Rights Nicholas Schmidt and Commissioner for Home Affairs and Commissioner Ylva Johansson take part in the meeting of the European Partnership for Integration with European social and economic partners, on the integration of migrants and refugees into the labor market;
Commissioner for Agriculture Janusz Wojciechowski participates in the meeting with the chairmen of the agricultural committees of the Visegrád Group;
The High Representative of the European Union for Foreign Affairs and Security Policy, Josep Borrell, is on an official visit to Jordan, participating in the Baghdad conference and holding bilateral meetings on the sidelines.
European Parliament President Roberta Metsula held meetings with Romanian President Klaus Iohannis, Romanian Prime Minister Nicolae Ciuka, Romanian Senate President Alina Georgiu and Romanian Chamber of Deputies Speaker Marcel Ciulacu. addresses a joint session of the Romanian Parliament;
***
[Edited by Sarantis Michalopoulos, Vlad Makszimov, Daniel Eck, Zoran Radosavljevic, Alice Taylor, Sofia Stuart Leeson, Sofia Mandilara]