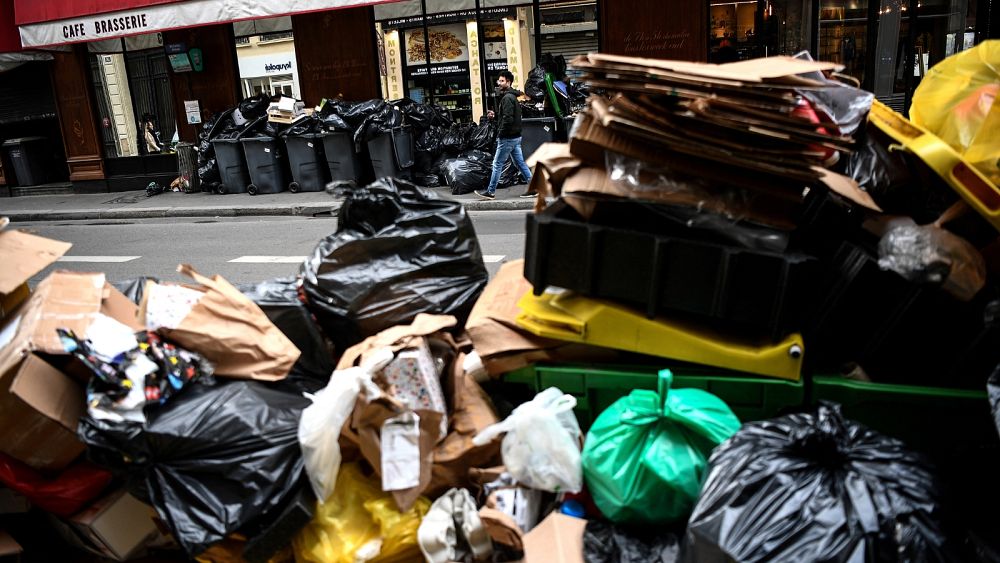 An estimated 10,000 tons of rubbish is piling up on the streets of the French capital, as unions call for more protests and strikes this weekend against controversial pension reforms.
Hundreds were arrested in Paris after two nights of protests, according to the interior minister Gerald DarmaninWhile the demonstrations spread to Rennes, Nantes, Lyon and Marseille after President Emmanuel Macron used a legislative loophole to impose reforms to French retirement laws that would raise the retirement age to 64.
French opposition parties now have it Submit a motion of no confidence In an attempt to overthrow Macron's government over his pension reform.
Unions have called for more local protests over the weekend with strikes already planned for next week.
Flight cancellations are expected, with up to 30% of flights at Paris-Orly airport and 20% of flights at Marseille-Provence airport disrupted due to the air traffic controllers' strike.
The SNCF rail unions have called for the industrial strike to continue, with widespread cancellations expected next Thursday on long-distance train routes and in the Paris metro; While suburban rail journeys in Paris were already affected by strikes this weekend.
Oil refineries began shutting down as of Saturday, as TotalEnergies employees went on strike — a strike that could eventually affect petrol pumps across the country.
Unions representing electricity and gas workers also decided to strike next week, calling for "maximum disruption of work".
In the port of Le Havre, officers and sailors manning tugboats remained ashore on Friday, dramatically disrupting all activity in the port: with container ships, LNG tankers and oil tankers unable to enter or leave the port.
In Calais, ferry traffic to the UK came to a complete halt on Friday morning.
Meanwhile, an ongoing strike in Paris by garbage collectors means there is an estimated 10,000 tons of rubbish piling up on sidewalks, according to the city council.