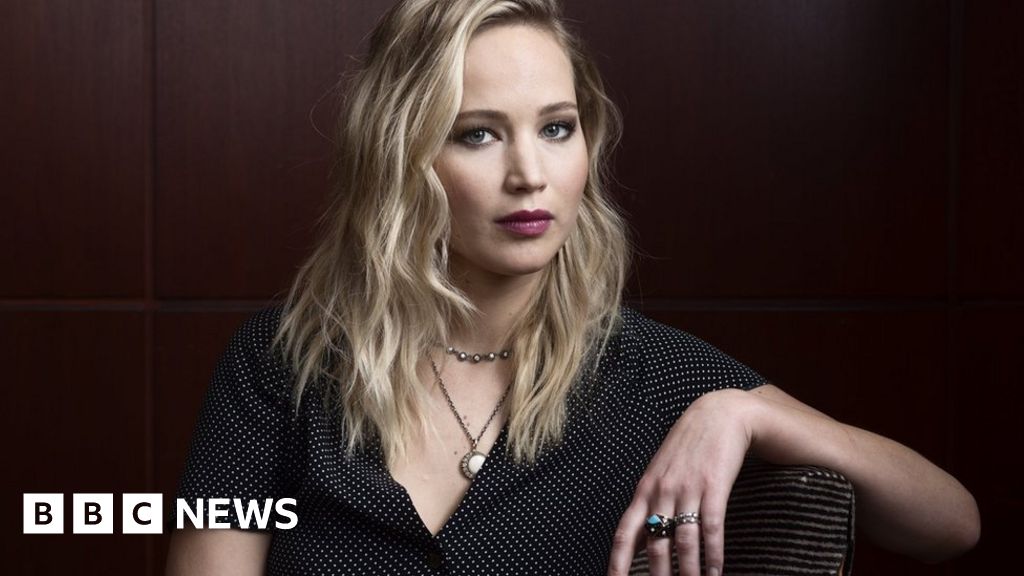 Written by Megha Mohan
Gender and identity reporter
"You only oppress women," the young woman tells the Taliban fighter.
He said, "I told you not to speak, I will kill you right here!"
"Okay, kill me!" She replies, raising her voice to match his. "Schools and universities are closed! Better kill me!"
Secretly and with difficulty, this face-to-face confrontation inside a car between the woman and the fighter was captured by a camera phone.
She had just been arrested after a protest and was about to be transferred to a holding cell in Kabul.
It's a scene from the documentary Bread and Roses, which explores the daily lives of three women in the weeks following their acquisition.
The producer is Oscar-winning actress Jennifer Lawrence, who tells the BBC why this moment in the film was so important to her.
"My heart was racing as I watched these women take on the Taliban," says Lawrence. "You don't see this side of the story, women want to fight, in the daily news and it's such an important part of our film, and these women's stories."
She says it is devastating to think of the sudden loss of control Afghan women have experienced.
"They currently do not have any self-government within their own country. It is very important that they are given the opportunity to document their story in their own way."
The movie is produced by Excellent Cadaver, a production company Lawrence founded in 2018 with her friend Justine Ciarrocchi.
"This documentary was born out of passion and necessity," says Lawrence, who describes feeling helpless and frustrated about what she was seeing on the news.
Ciarrocchi says Lawrence "had a seismic reaction to the fall of Kabul in 2021 because the conditions were so dangerous for the women."
And she said, "We have to give someone a platform to tell this story in a meaningful way. "
That person was Sahra Mani, a documentary filmmaker who co-founded the independent Kabul production company, Afghan Dockhouse.
Lawrence and Ciarucci watched her critically acclaimed documentary A Thousand Girls Like Me, which depicts a 23-year-old Afghan woman who appears on national television to expose sexual abuse by her father, after being ignored by her family and the police.
Ciarrocchi Mani, who said she had already started a project, tracked down three women in the country as they tried to carve out some kind of autonomy in the months after the Taliban took control, with girls and women barred from universities and schools.
Manny filmed using secret cameras, asking the women to film themselves in hiding places with their friends and families.
Another scene depicts a secret meeting in a windowless basement off a side street in Kabul. More than a dozen women sit in rows of desks and chairs arranged like a makeshift classroom. Steam rises from drinks in their plastic cups.
They don't know each other, but they all belong to different groups that protested after the Taliban recaptured Afghanistan in August 2021.
One of the women, a dentist named Zahra, leads the viewer to this secret meeting. When she talks to the group, she remembers wearing high heels, perfume, and going to the park with her friends. The smile of the women around her.
Then a writer named Vahideh begins to speak.
"Women should write their own history," Waheeda says excitedly to the group, to mutter approval. "Women are not properly celebrated around the world."
Mane was well aware of the challenges of filming in such special and dangerous situations.
"I understand how to deal with difficulties because I am one of them.
"They are not victims, they are heroes," she says.
But striking the right balance between keeping the women safe and telling their story hasn't been easy. She told the BBC that there were several late-night conversations between her, Ciarucci, and Lawrence during the production process.
"They were there whenever I had any troubles or problems," says Mani. "When women unite, anything is possible."
With Manny and the other women now appearing across the country, the producers felt comfortable introducing "Bread and Roses" for wider distribution, starting with Cannes.
Ciarrocchi and Lawrence say their next challenge is getting the film to a large audience—not always easy when the story is a snapshot of an ongoing and devastating conflict.
"There's no end to this story," Lawrence says, "and you feel pretty helpless when you think about how you can do anything about it. It's a hard sell."
As executive producers, Ciarrocchi and Lawrence are still in the minority in Hollywood. A 2022 study from the Center for the Study of Women in Television and Film showed that women make up just 24% of the directors, writers, and producers of the highest-grossing films, down from 2021.
"I think there's a long, long way to go, but I feel inspired and positive about the final product when you have more diversity in filmmaking," says Lawrence. "It's what the people want. The fans want it."
Ciarrocchi adds, "That's why we take our responsibility for Jen's platform so seriously as a woman giving opportunities to other women…to hire women, to tell women's stories, to always hire a diverse group of people."
Lawrence replies, "It's also because I'm a woman."
"I'm lucky enough to not have a preconceived notion that women aren't good at things!"