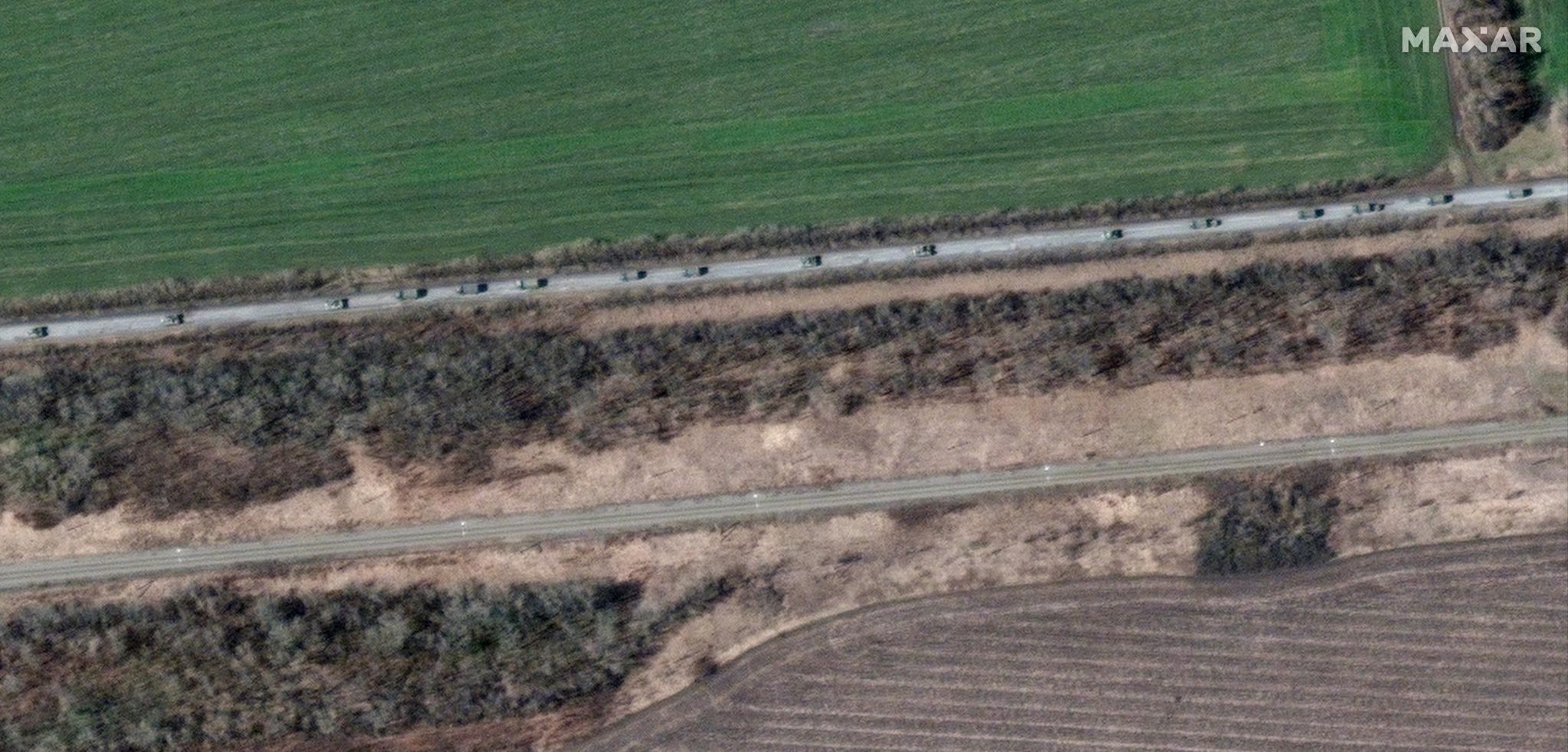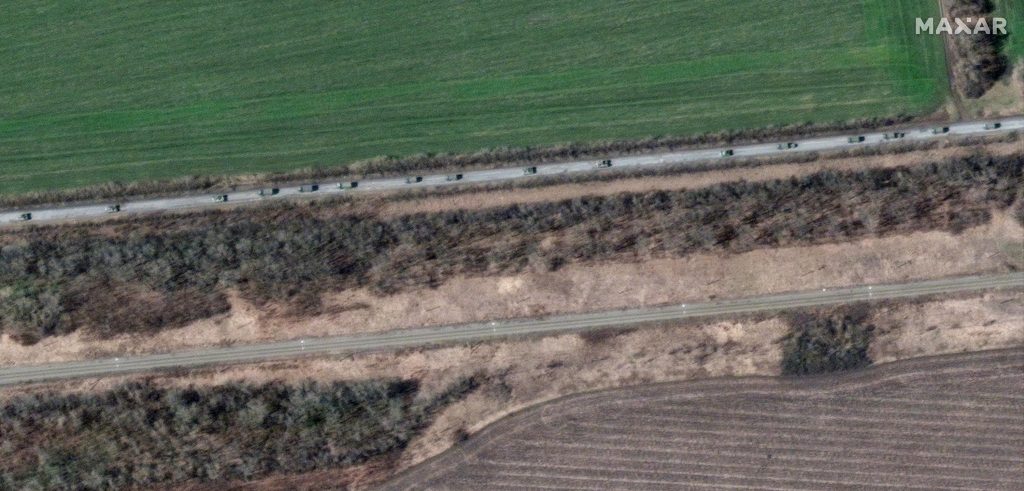 Kyiv, Ukraine (AP) – Russia is targeting all of Europe with its invasion of UkraineUkrainian President Volodymyr Zelensky said that stopping Moscow's aggression is necessary for the security of all democracies, while Russian forces prepare for battle in the east of his country.
Addressing "the free people of a brave country," Zelensky said in a late-night video message to Ukrainians that the goal of the Russian war "was not intended for Ukraine alone" and that "the whole European project is a goal."
"That is why it is not only the moral duty of all democracies, all powers in Europe, to support Ukraine's desire for peace," he said. "This is, in fact, a defense strategy for every civilized nation."
His speech came as civilians continued to flee the eastern parts of the country ahead of the expected attack and emergency workers searched for survivors in towns north of the Ukrainian capital of Kyiv, which are no longer occupied. by Russian forces.
Russia withdrew its forces from the northern part of the country and refocused it on the eastern Donbass region, where Moscow-backed separatists fought Ukrainian forces for eight years and seized some territory before the war, now in its 46th day.
Western military analysts said an arc of territory in eastern Ukraine was under attack, from Kharkiv – Ukraine's second largest city – in the north to Kherson in the south. Newly released Maxar Technologies satellite imagery collected Friday showed an 8-mile (13 kilometer) convoy of military vehicles heading south into Donbass through the town of Veliky Berluk.
However, Western assessments expressed increasing confidence in the ability of Ukraine's defenders to fend off Russian attacks, and portrayed Russian forces as suffering from low morale and mounting losses.
The British Ministry of Defense said, on Sunday, that the Russian army is seeking to respond to the mounting losses by increasing the number of troops with personnel who have been released from military service since 2012.
In an update on Twitter, the ministry also said the Russian military's efforts to "generate more combat power" also include trying to recruit from the Trans-Dniester, a breakaway region of Moldova on the border with Ukraine.
Russian-backed separatists in eastern Moldova took up arms in 1992 to found the unrecognized Trans-Dniester, which Russia maintains with some 1,500 soldiers.
Many European leaders have made efforts to show solidarity with war-ravaged Ukraine. In his video address, Zelensky thanked the leaders of Britain and Austria for their visit to Kyiv on Saturday and pledged more support.
He also thanked the President of the European Commission and the Prime Minister of Canada for the global fundraising event that brought more than 10 billion euros ($11 billion) to the millions of Ukrainians who fled their homes.
Zelensky repeated his call for a complete ban on Russian oil and gas, which he described as sources of "self-confidence and impunity" for Russia. Some European countries are highly dependent on Russian energy imports.
"Freedom has no time to wait," said Zelensky. "When tyranny begins its aggression against all that keeps peace in Europe, action must be taken immediately."
in an interview With the Associated Press inside his heavily guarded presidential office compound, Zelensky said he was committed to negotiating a diplomatic end to the war even though Russia had "tortured" Ukraine.
He also acknowledged that peace is unlikely to come quickly. The talks have so far not included Russian President Vladimir Putin or other senior officials.
"We have to fight, but we fight for life. You cannot fight for dust when there is nothing and no people. That is why it is important to stop this war," the president said.
Ukrainian authorities have accused Russian forces of committing war crimes against thousands of civilians during the invasion, including air strikes on hospitals, and a missile attack that killed 52 people at a train station. Friday and shooting residents of the northern towns at close range.
Graphic Evidence of Killing Civilians Appearing after the withdrawal of Russian troops from Bucha, firefighters were searching buildings in Borodianka, another settlement outside Kyiv. Russia has denied involvement in war crimes and has falsely claimed That scenes in Bucha were staged.
Ukrainian authorities have said they expect to discover more mass killings once they reach the southern port city of Mariupol, which is also located in Donbass and has been subjected to a month-long siege and violent clashes. The city's location on the Sea of ​​Azov is crucial for creating a land bridge from Crimea, which Russia captured from Ukraine eight years ago.
Ukrainian officials have almost daily appealed to Western powers to send more weapons and punish Moscow moreincluding the exclusion of Russian banks from the global financial system and the imposition of a total ban on Russian oil and gas by the European Union.
During his visit on Saturday, Austrian Chancellor Karl Nehammer said he expected more EU sanctions against Russia, but defended his country's opposition so far to cutting Russian gas shipments.
The chancellor said this week's package of sanctions "would not be the last", acknowledging that "as long as people die, every punishment is still not enough". Austria is militarily neutral and not a member of NATO.
British Prime Minister Boris Johnson's visit came a day after the United Kingdom pledged an additional 100 million pounds ($130 million) in high-quality military equipment. Johnson also confirmed more economic support, ensuring an additional $500 million in World Bank lending to Ukraine, bringing the total British loan guarantee to $1 billion.
In an interview with The Associated Press, Zelensky noted the growing support but expressed frustration when asked whether the weapons and equipment Ukraine received from the West were enough to alter the outcome of the war.
"Not yet," he said, turning to English for emphasis. "Of course this is not enough."
___
Anna wrote from Bucha, Ukraine. Associated Press journalists around the world contributed to this report.
___
Follow the AP's coverage of the war at https://apnews.com/hub/russia-ukraine