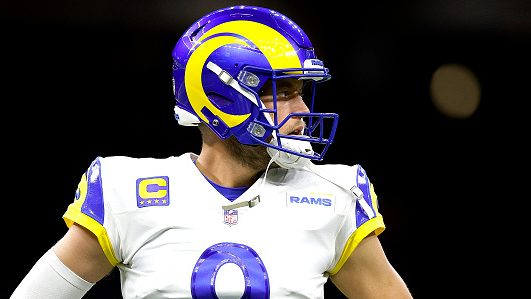 Once upon a time, people in Hollywood loved making disaster movies. Now, the NFL's primary home team has one championship.
Already at 3-8 through 11 games, the Rams are one of the worst defending Super Bowl champions ever. (Of course, there are many franchisees who would like to claim this title.) And with quarterbacks Matthew Stafford Now on injured reserve, it just won't get any better for the Rams.
Nor would it be better for the NFL.
Today's game against the Seahawks has a small regional footprint. But the next three, all of which Stafford would miss, would land the majors, Nationals, Independents, Inflexibles.
Thursday night, December 8: Raiders at Rams.
Monday night, December 19: Rams at Packers.
Christmas Day: Broncos at the Rams.
Stink, stink, stink.
And there is nothing that can be done about it. Rams stuck. The NFL is stuck. The viewing audience is stuck.
The good news is that maybe something like this will cause the NFL to get more creative when it comes to late season scheduling. With Sunday-Monday tucks to begin with, why not make it possible for any and all solo, nationally televised games from Thanksgiving through the end of the regular season?
Moving games to different days has displeased the league, since fans routinely schedule trips to distant cities in order to attend. With this line crossed in the looming Sunday-Monday/Monday-Sunday shift, why not fully embrace it?
It's a question that can become very salient as we struggle through a trio of Rams games involving a Rams team that is a far cry from the Rams team that won the Super Bowl earlier this year.