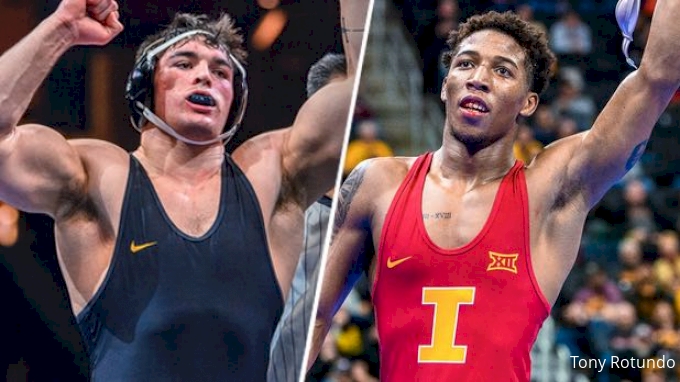 Iowa defeated Iowa State, 18-15, after each team won five games. Bonus points were the difference for the Hawkeyes as they took key decisions from Spencer Lee, Cobe Siebrecht and Nelson Brands. This duo also marks a season debut for Spencer Lee who is starting to kick things off at 125 pounds.
2022 NCAA Watch Party: Cy-Hawk & Penn State vs Lehigh
Possible starting formations
125: #1 Spencer Lee major decision Cory Cabanban (Iowa St), 16-5
First half: Lee scores on the spot, gives up an instant escape, then picks up another takedown to take a 4-1 lead. A four-point tilt makes it 8-1 with two minutes left. Lee picked up four more points midway through the period to take a 12-1 lead. An escape with a minute left makes it 12-2.
Second period: Cabanban chooses neutral. Cabanban scored on a late shot to cut the lead to 12-4.
The third period: Lee chose the bottom and ran away in 18 seconds to lead 13-4. Lee blocks a shot for a takedown and leads 15-4. An escape with 45 seconds left makes it a 15-5 lead. A riding time point makes it 16-5 for Lee in his season debut.
Iowa: 4
Iowa: 0
First half: Shriver hit a shot in the middle of the period, but Atasoff saved it. He did not score in the first half.
Second half: Atasov picked up strikes and ran away in 15 seconds for the first point in the match. Shriver was involved in one game with 35 seconds left in the game but Otsawoff kicked off. There is no recording for the rest of the period.
Third period: Schriever starts to go downhill but Attasauov appears committed to the ride as he invites the crowd to stall. Schriever sits up and gets an escape with 1:15 left to tie the score, 1-1. Attasauov scores a goal on the edge of the mat to take a 3-1 lead. He rides the remainder of the period to win.
Iowa: 4
Iowa: 3
First period: Woods made his season debut against Swiderski. A few shots from Woods but no serious scoring chances in the first minute. Swiderski gets a little more offensive during the second minute but they both feel tight. Woods hits a shot with 50 seconds left but Swiderski hits back. Stalling against Swiderski with 30 seconds left. There are no points in the first period.
Second half: defeat Swiderski. Woods has Swiderski flat in the first minute. The second stall warning gives Woods the first point of the game with 27 seconds left in the period. Woods edge Swiderski throughout the period and take a 1-0 lead.
Third period: Woods drops and makes a seven-second run for a 2-0 lead. Swiderski spins behind Woods' shot and scores to make it 2-2 but the escape makes it 3-2 with a minute left. Swiderski tries a few shots but can't score. Woods wins, 4-2, with time to ride.
Iowa: 7
Iowa: 3
149: #9 Panero Johnson (Iowa St) Decision #6 Max Morin (Iowa), 3-1 SV
First period: Johnson kicks off a shot with 2:10 to go but Maureen saves and creates a stalemate. Lots of hand-to-hand combat during the second minute. More hand-to-hand fighting leads to a scoreless first period.
Second half: Murin picks the bottom and escapes in six seconds. Johnson shoots late but can't convert. Maureen leads, 1-0.
Third period: Johnson singles a down on his feet but Maureen keeps him on the mat as they go out of bounds with 1:33 to go. Johnson finally runs away to make it 1-1. He did not score the rest of the match.
Shock victory: Johnson hit a shot with 45 seconds left in the game but Maureen countered. Johnson hits a sweeping single at the buzzer to win 3-1.
Iowa: 7
Iowa: 6
First half: Sibrecht hits a lace-up layup on a foot-to-back takedown and takes a 6-0 lead after Kreiser recovers. Kraisser escapes with 18 seconds left but Siebrecht takes a 6-1 lead in the second.
Second Half: Kraisser starts at the bottom and runs off in 20 seconds to cut the lead to 6-2. Kraisser hits a shot but Siebrecht comes out the back door in a wild struggle as the two fumble until a stalemate is called.
Third period: Siebrecht starts the descent and Kraisser puts his leg down. He seems committed to riding for now. Siebrecht gets to his feet and Kraisser lets him go and Siebrecht scores a takedown a few seconds later to take a 9-2 lead. Kraisser almost got away but Siebrecht held on to a big 10-2 decision with time to ride.
Iowa: 11
Iowa: 6
First Half: Not a single minute was recorded in the match. A low shot but Carr converts into a takedown with 1:05 left Kennedy immediately runs away to make it 2-1. Carr converts in a head-on shot to clear it again and takes a 4-1 halftime lead.
Second half: Carr picked the ball up and immediately ran away to take a 5-1 lead. Carr's solo sweep turns into his third takedown and takes a 7-1 lead. Kennedy runs away with 15 seconds remaining, cutting the lead to 7-2.
Third inning: Kennedy starts on the bottom and runs away to make it 7-3. Carr hits a single and scores with 20 seconds left and gives up an escape for a 9-4 lead. Time to Ride gives Carr a 10-4 victory.
Iowa: 11
Iowa: 9
174: #20 Nelson Brands (Iowa) major decision MJ Gaitan (Iowa St), 13-5
First period: Brands scores out of bounds and then brings Gaitan back to the bounds and the body shuts him down twice with a near fall and the lead is 4-0. Gitan runs away. It's 4-1. Brands runs back for the takedown but Gaetan escapes. 6-2 brands. Gaitan scores a takedown and runs away for a wild first period that Brands ends up on top, 7-4.
Second period: Gaitan picks and runs but Brands still leads, 7-5. Brands are heading back and about to fall but only takedowns are recorded. Brands lead, 9-5. The brands are committed to riding and have Gaitan back on the mat solidly as the period ends.
Third Period: The brands pick and run to advance 10-5. Trademarks hit one and double in another takedown and a 12-5 lead. Gaitian rides for the remainder of a major decision 13-5 with time to ride.
Iowa: 15
Iowa: 9
First half: No score after a minute. Lion hits a single with 1:17 left but the deadlock is called with 58 seconds left. no scoring.
Second half: Coleman picked the win and ran away in five seconds for the first point. Lion hit another shot in the middle of the period but Coleman saved it and they got back on their feet. Coleman leads, 1-0.
The third period: the lion chooses and escapes in 26 seconds. The score is tied 1-1. The lion hits his third shot but this time Coleman hits a takedown and the lead is 3-1. The lion's escape makes it 3-2 and Coleman hangs on as the lion gives chase. Coleman wins 3-2.
Iowa: 15
Iowa: 12
197: #6 Younger Bastida (Iowa St.) Decision #3 Jacob Warner (Iowa), 4-3
First half: No scoring after a minute. Bastida scores a takedown with 1:07 to go and gives up a 2-1 run. Bastida scores on the edge with two seconds left to take a 4-1 lead.
Second period: Bastida chooses neutral. The exchange of fire in the middle of this period does not give any points, but adds a little excitement. Warner goes in for a shot but Bastida runs off. Bastida still led 4-1.
Third inning: Warner picked bottom and ran away with 19 seconds to cut the lead in half. Tom Brands throws a rock at what appears to be a potential head cover pull against Bastida. Challenge won. Bastida was penalized and now leads 4-3. Warner went in for a shot as the crowd went crazy, but Bastida kicked at the buzzer and held on for the 4-3 win.
Iowa: 15
Iowa: 15
First Half: Kassiopi scored in 47 seconds to take a 2-0 lead. A caution stop against Schuyler with 1:20 to go. Cassioppi locks the ba arm with 45 seconds left and the crowd is up for a grab, calling for a stall on the bottom. Kassiopi does not get a turn but leads 2-0.
Second half: Cassioppi kicks in and runs away immediately to take a 3-0 lead. Cassioppi hits a double and then goes high around the stomach for another stop and takes a 5-0 lead. Kassiopi was hit by a stop at the top, his first caution. He makes it through the period and maintains a 5-0 lead.
The third period: Schuyler hit a shot and scored to cut the lead to 5-2 after closing the cradle. Kassiopi runs away to lead 6-2 with a minute to go. Elimination and riding time makes the score 9-2.
Iowa: 18
Iowa: 15